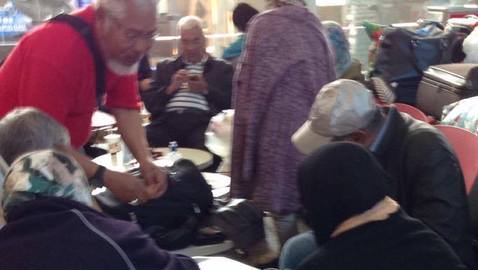 Passengers on a Malaysia Airlines flight delayed by more than 42 hours due to a mechanical fault are stranded at Auckland Airport because all nearby accommodation is booked out for Adele.
People were sleeping on chairs in the airport's KFC overnight with their luggage around them as they waited to catch the Kuala Lumpur-bound flight, the father of one passenger told the
Herald
.
http://m.nzherald.co.nz/nz/news/article.cfm?c_id=1&objectid=11825579
I had a terrible experience when I flew last year.
"Extremely poor communications."
Dear Sir, (Malaysian airline)

I emailed to you and the only communications I got from you was, "Acknowledgement of Receiving Case -2589-06/2016,"
I flew back from Kuala Lumpur on 15th June to Auckland. Upon boarding the plane, an air stewardess told me to wait at the station behind the business class. She gave no explanation when I asked her why. Soon there were five others in my same situation, and there was a hullabaloo with the rest of the passengers boarding.
All we were told to wait. Sensing we were hot and bothered, a stewardess left a tray of juice on the corner and asked us to help ourselves.
The commotion went on, and I asked for a reason that we were kept in the dark. By then, I was very upset, and I voiced that I had travelled nine weeks and this was my last leg home.
The Indian man steward had the cheek to ask if I had been to Europe. I kept quiet, and wanted to shout," What is it to you?" Yes, I didn't want to say I have been to Europe and I have been to USA and Canada.
I verbalised that I am a writer. I am a published writer, a blogger and a travel writer. I did not say I could write about such a shoddy situation we were in.
They then offer a seat way back which I did not take up. Finally they gave me a seat behind where I had originally purchased.
Towards the end of the trip, I asked the steward if he could give me a satisfactory answer, he gave a vague answer like seats at 9 and 10 were ………
When I came back, I didn't write in, but it is already August, I still have not heard.

Ann Chin,
This was written on 11 August, I still have not heard from there. it is 13 sept